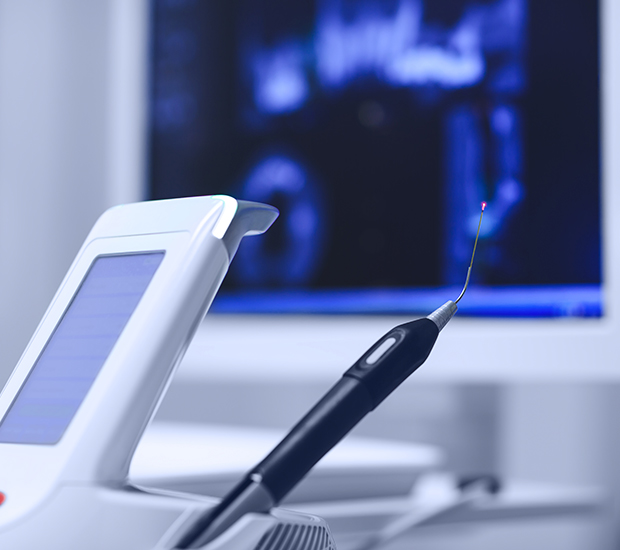 At Dr. Robert B Tamaki, DDS, we love our patients and use the latest in dental technology to ensure that they remain as comfortable as possible. This is why we offer laser dentistry. As a dentist cosmetic patients depend on, we know that traditional metal dental tools can effectively be used to complete procedures, however, they are less accurate, and one slip can cause damage to the gum tissue. Regardless of how experienced a dentist is, it isn't feasible to have the same level of accuracy when using a metal dental tool as opposed to using a laser, simply because the laser light is so small and accurate. As a cosmetic dentist, we have found that patients throughout Los Angeles, CA, prefer being treated with laser dentistry because the recovery time after dental work is significantly reduced. If you haven't been to see a laser dentist and live in the 90045 area, we invite you to call (310) 641-3414 and schedule an appointment.
Dr. Tamaki is dedicated to identifying the best possible dental tools, procedures, and solutions for ensuring that our patients are as healthy as they can possibly be while having a beautiful smile. This is the commitment that led him to stop using amalgam fillings due to the risk of placing mercury in the mouth. This same commitment today, has led him to using lasers in a variety of procedures, especially when it comes to restorative dentistry. As a dentist in Los Angeles, CA, he can treat cavities and place a natural colored filling to restore the tooth, with the help of lasers. Instead of removing the decayed portion of the tooth with metal dental tools, a laser can be used for a less-invasive process. Lasers are also an excellent tool when treating gum disease since they can be used to break up the plaque and tartar underneath the surface of the gums. This is an alternative option to scraping the plaque off. As a family dentist, we know that using lasers makes the process of treating gum disease faster and more comfortable.
Where can I find a dentist near 90045 that uses lasers for teeth whitening?
Give us a call and we will be happy to whiten your teeth. This is another way that our dental office uses lasers. If you want your teeth to be bright, white, and stunning – teeth bleaching in Los Angeles, CA is the way to go. Yes, you can whiten your teeth at home but the results will never be as dramatic as what is achieved in our dentist office using the Zoom 2® technology. This is because our solution is stronger, and we use a laser light to activate the whitening solution for fast results.
Laser dentistry also has uses when it comes to performing oral surgery, something we do regularly as an implant dentist. Lasers are also used in more intensive restoration procedures like placing dental crowns. This is because a laser can be used to help stop the bleeding and speed up the recovery process. By using a laser on soft tissue, patients report feeling better after the procedure has been completed.
Lasers are only one of the ways we are modernizing our dental practice. We also offer the latest in natural-looking dental crowns using E-Max® porcelain crowns. The translucency of the material makes them look like beautiful natural teeth, and they are ideal for patients that have damaged a tooth or have had a root canal and need a crown to further protect the tooth. Simultaneously, patients that are getting dental bridges can benefit from how quickly a new, natural-looking crown can be created. As an emergency dentist, we will often use laser dentistry and E-Max® crowns to remove an infection and protect a tooth afterward. In our dental office, we put you, our patient, first. That means that we are always on the lookout for new technology that can improve your experience, like offering dental implants instead of dentures for tooth replacement. Laser dentistry is part of that process. To learn more, call (310) 641-3414.
Additional procedures.
As a general dentist, we perform a variety of dental procedures to improve your oral health including lesser known TMJ treatments and endodontics. Additionally, we are a pediatric dentist and happy to help your children stay in excellent oral health.
Laser Dentistry FAQ
Q: I need to replace two missing teeth next to each other. Can I just have one implant placed and attach it to one of my natural teeth and make a bridge?
A: Generally, this is not a good idea-over the years we have learned that it is generally much better not to attach implants to teeth. We frequently attach implants to each other, which can improve strength and works well. So in a case like this, although it may be more expensive in the short term to place two implants instead of one, the long-term success is likely to be much better with the two implants.
Q: I lost my upper back teeth on one side and have gone for years without doing anything about it. My sinuses always seem to bother me more on that side than on the side that I have back teeth. Could these problems be related to one another?
A: In a large majority of people who have had their upper back teeth missing for a long period of time is the increasing downward growth of the maxillary sinus. At birth it is the size of a pea, and progressively grows as the skull matures. This growth is at the expense of the surrounding bone. If you are considering replacing those upper back teeth with fixed teeth that stay in all the time, it may be necessary to perform a sinus elevation procedure to allow room for placement of dental implants into this area to support those teeth. This involves placement of bone and/or bone substitutes into an area which was previously occupied by the lower part of the maxillary sinus. Most importantly, this procedure increases the available bone use to place implants and restore the missing back teeth.
Q: I've had dentures for several years and have lost a lot of jawbone. My lower dentures are floaters and I need help. Is there still hope for me?
A: In most cases, with the new options available today in the field of dental implants, some form of treatment can be done. We encourage people to get help as soon as possible if they are already having some problems with their current situation. These problems include: excessive use of denture adhesives, chewing only soft food, unable to taste some foods, constant mouth sores, unhappy with the appearance of one's teeth and bite position (in some cases the nose and chin getting closer together). The sooner the problems are corrected with dental implants the more choices one has available for treatment. If you have any or all of the above symptoms, implants could very well be the answer for you.
Q: I am missing all of my teeth and am now wearing a full upper and lower denture. I can no longer tolerate my lowers. Will I need an implant for every tooth I am replacing on the lower jaw?
A: It is not necessary to have an implant for every tooth that is being replaced. The number of implants necessary to provide support depends on the type of implants used and the type of teeth (removable vs. non- removable) that will be attached to the implants. A thorough oral exam and panoramic x-ray is all that is necessary in most cases, to determine which implant can be used and how many must be used. Sometimes additional x-rays or CT scans are used in more complicated cases.
Q: I consulted a dentist several years ago about using dental implants to replace my lower denture and he told me that I did not have adequate bone available to place enough in-the-bone implants without danger of fracturing my now fragile jawbone. Are there any alternatives?
A: Because of the advances in the field of dental implantology, there are now more choices and techniques. It's the rare person that cannot receive an implant or a combination of implants. Today we have available many types of implants designed to accommodate multiple problems.
Q: I had a root canal on a tooth that fractured and now it has to be removed. Can it be replaced with an implant or do I have to have a bridge or a partial?
A: Teeth that have root canals can fracture more easily than other teeth because they are weaker and somewhat dehydrated. They can sometimes be as brittle as glass. In the past the best available treatment was to remove the tooth and file down the adjacent teeth and make a bridge – caps on the adjacent teeth with an attached "dummy" tooth in between. Sometimes this still is the only way. However, in many cases an implant can replace the fractured tooth and no teeth need to be ground down at all.
Explore additional topics covered on our website:
Back to top of Laser Dentistry.
Request an Appointment
Use the form below to schedule an appointment online.