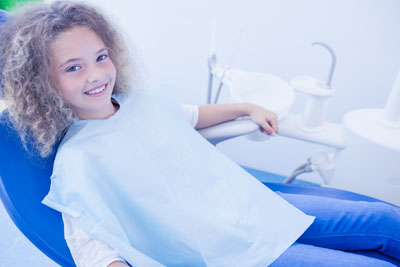 Being a pediatric dentist means that we work with children on a daily basis, and as such, we have learned the importance of making their visits to our clinic the most comfortable they can be. One of the most important moments for a child is the very first time they come in to see their pediatric dentist. We know from numerous studies done that the first impression a child forms of the dentist office is often one they carry with them into adulthood.
We found that among the 45 percent of people who do not visit the dentist on a regular basis, a large portion of them can point to a dental situation in their childhood that left them with a bad memory. The importance of this first visit cannot be overstated. It also cannot be overstated how much of an impact a parent will have on a child's memory before, during, and after the appointment.
During the appointment, it is very important that you portray to your child that you are calm and confident. Children look to their parents for guidance, even at the most subliminal level. When they are at the pediatric dentist, this is even more pronounced. The child will find themselves in a strange environment with people dressed in strange clothes (scrubs or lab coats), unfamiliar sounds and smells, and then there is the chair, which scares many adults and can have the same effect on children.
However, when the parent seems calm, the child will feel the same way. As you offer reassurance, any fears the child may feel will turn into natural curiosity, which is exactly how they should feel. On the other hand, if you show anxiety or concern, the child may exhibit the same emotions, making it much harder to convince them that this is a safe and friendly place.
As a pediatric dentist, the one thing we are intimately aware of is how important it is to feed a child's curiosity. As such, we are always willing to answer a million questions and break things down into easy to understand verbiage that is child-friendly and will not scare them. However, we also know that your child will have many questions for you at home. We believe you should have these conversations with your child. Naturally, you will want to keep them age-appropriate both in content and in length.
Pediatric Dentist in Los Angeles
We also strongly recommend you do not go into any details about what we do as a dentist, focusing instead on keeping the conversation fun and upbeat. This will help build your child's confidence and have them excited to come in and see the pediatric dentist. The more you talk your child through something, the better they will enjoy it. Once you arrive at the pediatric dentist, you should take a few moments to speak with your child's dentist so you can be on the same page with regard to goals, questions, and concerns you might have.
Live in Los Angeles, CA and have questions about a pediatric dentist? Give us a call at (310) 974-8415.
---
Related Posts
September 14, 2015
For a pediatric dentist and a quality dentist near 90045, visit our office because we are one and the same. We are a pediatric dentist near 90045 who provides comprehensive dental care services for infants, …
---