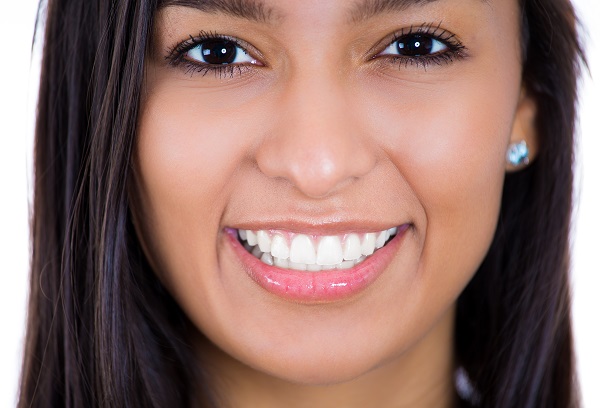 There are not many risks for teeth whitening when performed professionally by a dentist. However, understanding the process and whether or not teeth whitening could be harmful is helpful in deciding if treatment is appropriate for you.
The risks of teeth whitening
Increased tooth sensitivity, gum irritation and swelling are the most notable risks of teeth whitening, although these risks are rare and typically not severe when they do exist. This review offers a more in-depth look at each risk and how professional, in-office teeth whitening can prevent the side effects from developing.
Increased tooth sensitivity
Many patients experience little to no tooth sensitivity after teeth whitening. If sensitivity does develop, it is typically minor and goes away within 48 hours. Minor sensitivity is not a cause for concern, although severe sensitivity or if it continues for an extended period of time may require a follow-up visit with the dentist. To deal with minor to moderate sensitivity, the dentist may recommend a special toothpaste or other forms of safe symptom relief treatment.
Gum irritation and swelling
Gum irritation and swelling are rare with professional teeth whitening, especially if it is performed in-chair by the dentist or dental hygienist. However, take-home kits could lead to gum irritation and swelling if it is not performed correctly. Mild gum irritation and swelling is not a serious concern, but it is likely a sign the gums are being exposed to the bleaching agent. If any gum complications develop during or after in-office teeth whitening, then let your dentist know to ensure any issues are resolved as soon as possible.
In-office whitening vs. take-home kits
As mentioned, there are two types of professional teeth whitening, which are in-office whitening and take-home whitening kits. Both are effective when performed correctly, although each has its own pros and cons. The benefits of in-office teeth whitening include faster results, results that last longer and a safer treatment process as the dentist can monitor the treatment. Take-home kits are more convenient for some, although the results are not quite as effective or long-lasting.
How to determine if whitening is right for you
Teeth whitening is ideal for patients who have good oral health that want to improve the brightness and overall appearance of their smile. Patients who have weakened enamel or dental cavities may require treatment to fix the oral health concern before they are able to receive professional, in-office teeth whitening. The best way to determine if teeth whitening is appropriate is to discuss the treatment option with a general dentist. They can answer your questions and put together a treatment plan that involves professional teeth whitening any other cosmetic services you desire.
Schedule a teeth whitening consultation today
You can schedule a consultation visit to get the teeth whitening process started with our team today. Give us a call and we are glad to answer your questions and set up a convenient time for you to visit our dental team for teeth whitening treatment (as well as for other dental needs you may have).
Request an appointment here: https://www.drroberttamaki.com or call Dr. Robert B Tamaki, DDS at (310) 974-8415 for an appointment in our Los Angeles office.
Check out what others are saying about our dental services on Yelp: Teeth Whitening in Los Angeles, CA.
---
Related Posts
November 10, 2020
Considering undergoing professional teeth whitening treatment services? Even though there are many over-the-counter teeth whitening products to choose from nowadays, these generic options are often hit and miss. The fact that it is often very …